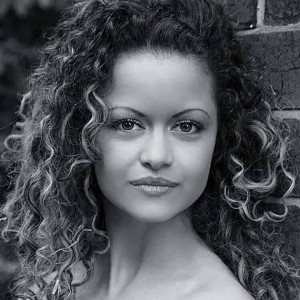 Gender: Female
Nationality: British
My Accent: Northern East Accent?
Background: Quarter Jamaican (Mixed Race)
Build: Petite/athletic
D.O.B: 06/09/1991
Age: 26
Playing age: 18 – 28
Accents:  Scouse
Eye Colour: Hazel
Hair Colour: Brown/Blond highlights
Hair length: Long –  Naturally Curly, Can be Straightened also
Tattoos: 1 – On my Lower Back
Piercing: Ear/ Belly Button
Driving Licence: No, (But like one)
Voice : SOUL/Blues & R.B
Height: 4 foot 11 inch/146 cm
Shoe size: 2/3
Weght: 6 ½ Stone
Dress size: 6/8
Bust: 32″
Back under bust: 35"
Waist: 23"
Hips: 25"
Thigh: 17"
Inner leg: 21 ½"
Outer leg: 28"
 

Abilities & Qualities
Mercedy is an ambitious, hard worker, motivated, energetic, open minded and creative
individual, who likes to take on mentally and physically challenging roles and think outside the box. She is friendly, bubbly, always smiling & Laughing (in a sensible way). very professional, reliable, the type to never let you down & trustworthy, she has a strong personality and always bounces back. Known for pushing herself out there and is willing to take on any new opportunity that comes her way.
She is Good with lines and memorizes them soon as she gets a script so she can feel more confident in her self and in her role, values pride and appearance in her work, careful planning is also a priority to her and likes things to be really organised. she has shown she is a very independent person but can also happily work with others, she has a strong sense of teamwork and can handle her workload well. It is quite easy for her to adapt to new changing situations or environments and can often work happily unsupervised and communicates well with others when needed. Mercedy has a lot of dedication and care for the work she does and is very committed not to let herself or others down and has been known to be a pocket rocket. 
She is very fond of the horror genre and likes being in roles that personify mentality and instability, finds these roles in particular the most challenging yet also the most rewarding and inspiring ones to get involved with. One of her other favorite roles is Gangster and True Story films and is trying to acquire more experience in Comedy and Action/Romance movies. Whatever character Mercedy has to play, she studies that character extensively and constantly works to make sure she feels like she has literally become that character and lives in their world. 
If you are interested in what you have read about Mercedy and believe she can bring something to your projects please visit her 'Contact Page' to book her or through her Manager – Phillip.B – By finding his page (Delphi-Media)
Performance Information
Willing To Do:
Film – Television – Theatre – Radio – Charity Events – Music videos/Tracks – Photo-shoots – Magazines – Catalogues – Entertainment – Promotional – Directing – Body ART etc..
Nude/Linger/kiss:
Yes (only if required for character)
Passport:
Yes (BUT out of date)
Performing Skills:
Acting – Singing – Modelling – Dancing – Entertainment
Sport Skills:
Swimming – Gym – Dance fitness – Boxercise – Boxing
Other skills:
Writing Stories for films – Writing own Lyrics – Directing – Art – Photography/Editing – Hairdressers Experience (Make up/Hair/Nails) – Youth work/Working with young people – Teaching at youth work – Viking/Swords – Good adviser – Producing – Making Websites look creative – Running events – Helping on set (Sound, Editing, Filming) – Choir
Hobbies & Interests
Reading True Stories – Singing – Modelling – Dancing – Working Out/keeping Healthy – Writing – Lyrics/Films – Directing – Youth work (voluntary Working with young people and children) – Performing/Acting – Viking Projects – Choir  
Making Websites look cool – Photography/Editing – Watching plays/Fims – Body Painting & Make-up.
Skill information
Acting
Interested in: Horror – Dramatic – Comedy (Depends What) – Action – True stories – Gangster – Romance – Dramas – Musicals.
Available for: Films – Television – Theatre Shows – Music Videos – Street shows – Radio – Voice overs – Classes – Photo shoots – Adverts –
Singing
Interested in: Tracks/Gigs – Live Singing – Musicals – Opera – Soul –  RnB – Soft Rock – Clubland
Available for: Tracks/Gigs – Music Videos – Charity Events – Films – Theatre – Radio – Television – Live Singing – Classes – Adverts
Modelling
Interested in: Characters – Fetish – Horror – Ghost – Expressions – Glamour (Beauty) – NO NUDE – (Unless with right assisstant) – Magazines – Catalogues – Promotions – Advertising Products
Available for: Out-door – Studios – Films – Television – Locations – Magazines – Catalogues – Charity Event –Theme Events – Adverts
Dancing
Interested in: Street-Dance – Hip-Hop – Break-Dance – Musicals – Contemporary – Salsa – Ballroom – Cheer-leading – Body Popping/Locking – Club-Dancing.
Available for: Films – Music Videos – Television – Dance Teams – Charity Events – Theatre – Dance Competitions – Gigs – Classes – Photo shoots – Adverts
Extras……  
Directing
Interested in: Films – Music Videos
Available for: Films – Music Videos
Body Painting/Face Painting/Art
Interested in: Films – Music Videos – Events – Theatre 
Available for: Films – Music Videos – Events
Photography
Interested in: Films – Music Videos – Events – Theatre – Promotions – Models
Available for: Model's – Films – Music Videos – Events – Theatre – Singers/Bands/Actors – Promotions